Casual Sunies Summer Shoes 2021:
The design of Sunies® sandals was created to adjust the feet with different weather conditions, extremely flexible and no sweatiness, smells good and feels good, in addition they are easy to take on an off. These are the perfect casual summer shoes 2021. 
Enjoy you Sunies shoes every day at, any time of the day and in any Sunies colour you might find most fitting to you lovely summer dresses or outfits.
Completely waterproof, with a textured sole to prevent slips and accidents, not to mention the enjoyable experience and stunning design.
Driven by the idea of loving our planet and animals, Sunies takes the responsibility of promoting sustainability: from developing, to production, and lastly to disposal.
Sunies® are made with 77% natural resources that include a recyclable Vinyl Flex.
The innersole was designed to enhance comfort with a unique EVA-Foam.
Have a look at our casual Sunies Summer Shoes 2021 environmental cycle, which is important to unterstand our 100% commitment towards the environment and future   
of the planet. We would love to have our future generations the enjoy the beaches  the same way we are doing right now.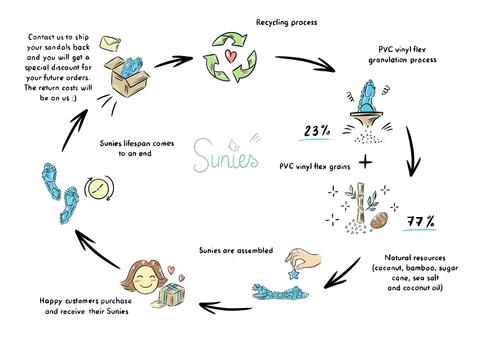 CASUAL SUMMER SHOES 2021  
Size recommendation: We would recommend you to order a size up.
In case you have any doubt you can contact our Sunies Shoes them any time, and we will be happy to help you.
 EU
UK
US
BRA
JP
AU
CM
36
3.5
6
34
22
5
 
22
37
4
 
6,5
 
35
22,5
5,5
 
22,5
38
5
 
7,5
 
36
23,5
6
 
24,5
39
6
 
8,5
 
37
24,5
7
 
25,1
40
7
 
9,5
 
38
25
 
7,5
 
25,8
 
41
8
 
10
39
25,5
 
8
 
26,1
 
42
9
 
11
40
26
8,5
 
26,5
 
I walk away with my Sunies!
I bought the casual Sunies Hawaii Rose. Just love them. Different from other shoes. They fit perfectly, it is a good tip to order a size up. Normally I have size 40 and I now ordered 41.
The service is great. Delivering in just a few days. I can recommend this product to everyone!
Sehr Süss und Komfortabel
Sehr Süss und Komfortabel